1FM Features
There were several unique 1FM features used on the cars alongside the already high standard specification.
Brass badge
The most distinguishing feature on the 1FM is the brass badge mounted on the driver's door beneath door catch. This badge had 205 GTi 1FM along with the individual number of the car and VIN number. These badges tarnish easily and previous owners of the cars haven't realised the badges are there. The badge is missing from a few of the cars, presumably when doors have been changed after damage without the owner realising they were losing the badge.



---
Stereo System

When Peugeot started to work on the 1FM project Clarion were asked to provide a top of the range stereo system. A single CD head unit, the CDC6700R, with RCB0134 remote control was installed. This unit was linked through a Clarion 402A amplifier to SE3500 60W 3-way front speakers and SE4900 200W 4-way rear speakers. These rear speakers were mounted in a specially made MDF rear parcel shelf. The system was cleverly wired so that when the parcel shelf was removed the rear speakers in the C pillars then worked. The audio set up was completed with the inclusion of a 6 disk CD changer, the CDC9250, mounted on the rear wheel arch in the boot.



---
1FM Decals

The Radio 1FM 25th Birthday badge design was used as a domed sticker on the front wings of the car. It was also used on the tailgate along with 205 GTi badges. The tailgate was smoothed, missing the slated plastic grill normally seen on the 205 Gti. Red vinyl 205 GTi badges were used in both doors along with 1FM vinyl decals.

---
1FM mats

Coloured front and rear mats were used, the front mats had the 1FM badge design and GTi logo screen printed on them. These are often missing from the cars as they faded easily.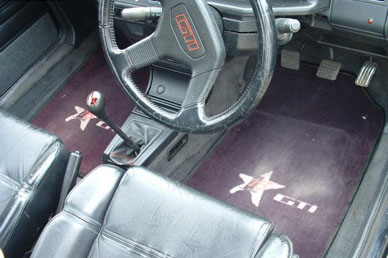 ---
Leather seats

 
A full leather interior was included as standard on the 1FM. This leather was black and had green stitching, the same seats as used in the Peugeot 205 Griffe.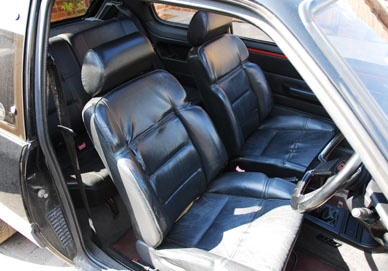 ---
Alloy Wheels

 
Grey painted alloys with a silver rim were fitted to the 1FM. These were the same alloys used on the Peugeot 309 Goodwood and the Peugeot 205 Griffe.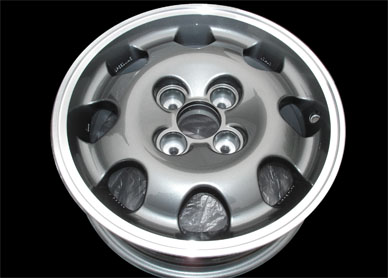 ---
The 1FM cars were also fitted with Air conditioning, ABS brakes and Power Assisted Steering as standard, as well as having a Peugeot full sliding sunroof and remote central locking.